More About ERINOGRACIE
Visit My SparkPage
Send Me SparkMail
Recipes I've Shared:
Healthy loaded potato soup
This is so flavorful and tasty it doesn't need all the bacon and cheese but is just as good as a restaurant loaded potato soup!
Asian Style Edamame Hummus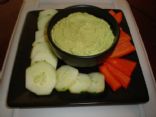 This is a twist on traditional hummus, with avocado and olive oil instead of tahini.
Recipes I've Rated:
ERINOGRACIE currently has no rated recipes.