More About HEATHEROBERT
Visit My SparkPage
Send Me SparkMail
Recipes I've Shared:
Spinach Lasagna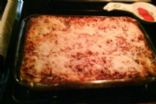 This is a delicious lasagna that also has lean ground beef. Can substitute lean ground turkey or leave the meat out if perferred.
Green Chili Chicken Enchilada Casserole
Chicken Casserole with corn tortillas, cheese, Rotel, onion, and green pepper
Recipes I've Rated:
HEATHEROBERT currently has no rated recipes.


Recipe Collections I've Shared: