More About OBERONE
Visit My SparkPage
Send Me SparkMail
Recipes I've Shared:
White Bean Soup with Peppers and Bacon (Revised)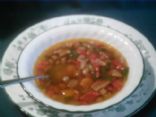 This was a editor's choice from Cooking Light Magazine. It was very heavy on salt originally, so I revamped cutting the salt in half. Also fixed it for the slow cooker
Recipes I've Rated:
OBERONE currently has no rated recipes.