More About BETHANYC81
Visit My SparkPage
Send Me SparkMail
Recipes I've Shared:
Avocado Corn Salsa - 2 Points
I LOVE guacamole, and as much we tout an avocado's nutritional value, the fact remains that the fruit is high in calories, fat and points. Adding tons of other veggies stretches the avocado and satisfies my craving.

Char your own corn in the oven or on the grill, or take a shortcut and buy frozen (Trader Joe's). Plain sweet corn will also do the trick, but doesn't lend that lovely smokey flavor to the salsa.
Raspberry Corn Muffins (WW3)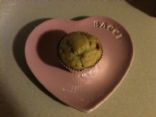 Yummy corn muffins with fresh raspberries. Substitute raspberries with any fresh berry.

*WW points per serving: 3
Recipes I've Rated:
BETHANYC81 currently has no rated recipes.


Recipe Collections I've Shared: