More About THELILMERMAID
Visit My SparkPage
Send Me SparkMail
Recipes I've Shared:
Delicioso Black Bean & Corn Salad
Black beans, corn, red bell peppers, tomatoes, green onions and avocado tossed in a zesty lime olive oil dressing!
HG Chocolate Fudge Cupcake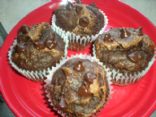 This recipe is from hungry girl.com. Cupcakes made with only 2 ingredients- canned pumpkin & fudge brownie mix! So fudgey!