More About SWJADECO
Visit My SparkPage
Send Me SparkMail
Recipes I've Shared:
Dianna's Lentil and white bean soup with a kick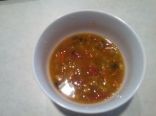 A slightly spicy, tasty lentil soup. Nothing bland here!
This can be a vegetarian recipe if you swap vegetable broth for the chicken broth. I prefer low sodium broth.

Pampered Chef Turkey Gyros
A great substitute for higher fat restaraunt gyros. These are awesome if you love Mediterranean flavors!