More About FLAB-BE-GONE!
Visit My SparkPage
Send Me SparkMail
Recipes I've Shared:
ASIAN COLESLAW WITH PINEAPPLE AND CRANBERRIES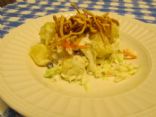 Tangy/sweet Asian salad with pineapple and cranberries, topped with crunchy chow mein noodles.
Moist banana muffins with whole wheat flour
Moist, yummy banana muffins with whole wheat flour. You can taste the whole wheat flavor, so if you don't like it, just use all white flour, or substitute only 1/2 cup whole wheat & 1 cup white flour. If you like a really sweet muffin, add more sugar. We are trying to use less white flour in our house & more whole wheat. My husband was skeptical, but loved the muffins!