More About SXYRICANPRNCS69
Visit My SparkPage
Send Me SparkMail
Recipes I've Shared:
Oven Roasted Baby Red Potatoes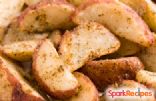 Try these instead of baked potatoes. You'll love the crispy coating.
Recipes I've Rated:
Recipe Collections I've Shared:
Liza's Favs
These are just some recipes that I have come across and ones that I made to help make eating healthier for my family and myself. I hope you enjoy!!!!