More About NIRVANALEE
Recipes I've Shared:
Low-Carb bun-less burger!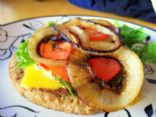 This is a low-carb, low-cal bun-less "cheese"burger. It's covered in fresh veggies. My version includes soy cheese and mayonnaise, but the "real" stuff can be used instead (or none at all). Best of all, it's only 180 calories!
Hummus and Veggie Pita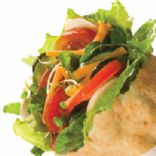 A yummy pita wrap filled with fresh veggies, hummus, feta cheese, and ceasar dressing.
Recipes I've Rated: