More About PUNKGIRL213
Visit My SparkPage
Send Me SparkMail
Recipes I've Shared:
Grilled Cheese Pizza Sandwich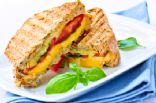 This tastes just like cheese pizza, plus you get about 25% of your daily calcium in one meal! Pair this with a salad and you have a great pizzaria style lunch without the calories attached...or the bill.
Tropical Fruit Pops
A tasty treat for the hot summer heat!
My smaller alternative to one of my favorite treats...Trader Joe's Carribean Fruit Floes! A smaller treat for a quick snack and about 1/4 the calories!
Recipes I've Rated:
PUNKGIRL213 currently has no rated recipes.