More About GIDGET73
Visit My SparkPage
Send Me SparkMail
Recipes I've Shared:
Pancakes topped with Applesauce, Blueberries and Walnuts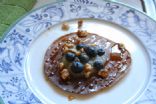 I loved this recipe. You can eat these like traditional pancakes or roll them up with blueberries inside like a canoli. My mom, Darlene, found this recipe at the gym and adapted it as you see here.
Recipes I've Rated:
GIDGET73 currently has no rated recipes.


Recipe Collections I've Shared:
DASH adaptations
When my mom was told she had high blood sugar and high cholesterol, I told her I would help her continue to enjoy eating, feel satisfied and maintain her weight while getting the sugar and cholesterol under control without medication. These are adaptations from the DASH Diet dev by US Dept Health.

8 Week Challenge
I love food that is whole and fresh with no processing, low sodium and carefully chosen sources of fats. I like to provide good ideas to choose over processed, mass produced options. This cookbook is a public place that will be part of the documentation of a 15 pound loss goal over 8 weeks.