More About TAILSCHRIS
Visit My SparkPage
Send Me SparkMail
Recipes I've Shared:
Kool-Aid
This is Kool-Aid made with water, 3/4 c. Sugar and done so I could be honest in my tracking.
Buffalo Chicken Wing Soup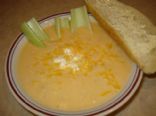 Way to get Buffalo Wing taste without ALL the calories or FAT!
Recipes I've Rated:
Recipe Collections I've Shared:
My New Recipes
These are recipes I'd like to try! Hopefully they will be good for me!