More About THARRISON78
Visit My SparkPage
Send Me SparkMail
Recipes I've Shared:
No-bake Chocolate Mint Eclair Cake
Absolutely unreal in ease, presentation and taste, there is no way anyone will believe the low calorie count or that the "cake" is simple graham crackers.
Creamy Broccoli Cheese Soup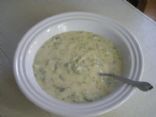 Super Yummy Meal Starter on a Cold Day, and it's Creamy to Boot!
Recipes I've Rated:
THARRISON78 currently has no rated recipes.