More About SUGAR_BUM_BUM
Visit My SparkPage
Send Me SparkMail
Recipes I've Shared:
Red Velvet Mini Cakes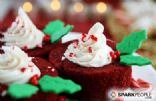 These mini cakes are perfect for any holiday celebration!
Recipes I've Rated:
Recipe Collections I've Shared:
The Flavors of Love
These recipes are all the flavors my family absolutely LOVE!!! I hope you can "spread the love" and share this amazing recipes with your family.