More About STARPRINCESS006
Visit My SparkPage
Send Me SparkMail
Recipes I've Shared:
Peach-Berry Granola Cobbler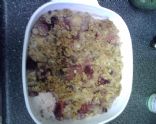 A not-too-rich cobbler concoction that can serve as a dessert or breakfast!
Mushroom Roast Beef
I concocted this while cleaning out my cabinets. Really tasty! I divided it 7 ways and froze for later. Great over rice. I use London Broil for this because of the lower fat in this cut.
Recipes I've Rated: