More About **BECKY**
Visit My SparkPage
Send Me SparkMail
Recipes I've Shared:
Coconut Rice Pudding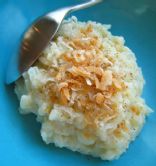 Rice pudding is a dish eaten around the world in many variations. It always contains some type of milk or cream to help achieve its thick, rich consistency, but the good news is that you don't have to stick with just plain ol' soy milk. Coconut milk is a great alternative to reach for instead.
Recipes I've Rated:
**BECKY** currently has no rated recipes.


Recipe Collections I've Shared: