More About EYEZZZOFBLUE
Visit My SparkPage
Send Me SparkMail
Recipes I've Shared:
Yummy Bean Dip
This is a great healthy bean dip I copied from Isabellas Italian Restaurant, it was sooo good I had to make it at home.

This dip can be served with freshly baked Italian bread, Pita Chips, Or wedges of Flat Bread or I even served some leftover dip over freshly grilled eggpalnt...
Tasty Sesame Asian Spinach Salad Topped With Garbanzo Beans and Grilled Shrimp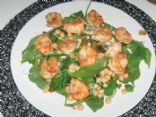 I copied this shrimp salad from Applebees spinach & shrimp salad it is a favorite in my house and oh sooo easy!!
Recipes I've Rated:
Recipe Collections I've Shared: