More About JULIANNAROSE
Visit My SparkPage
Send Me SparkMail
Recipes I've Shared:
J's Egg Salad Sandwich on Rye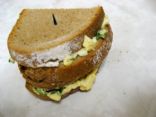 Tasty egg salad with a spicy kick!
Curried Veggies and Tofu
This yummy curry is all about the veggies. It's tasty that much I know. When I made this mucking about the kitchen I was quiet surprised with how well it turned out.
Recipes I've Rated:
JULIANNAROSE currently has no rated recipes.