More About SQUIRLGIRL01
Visit My SparkPage
Send Me SparkMail
Recipes I've Shared:
Crustless Kale, Sundried Tomato, and Parmesan Quiche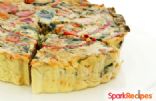 This crustless quiche is delightful any day of the week, for any meal!
Whole wheat/flax pancakes
This recipe was adapted by my husband. It's got everything that you need to eat after a good morning run.

We use soy milk for this recipe. Regular milk can easily be substituted.
Recipes I've Rated:
SQUIRLGIRL01 currently has no rated recipes.