More About MADI-EMMA
Visit My SparkPage
Send Me SparkMail
Recipes I've Shared:
Slow Cooker Beef Roast with Cranberry and Red Wine Reduction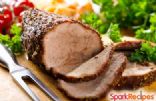 This roast is delicious and melts in your mouth and best of all, it does not have too many calories! I usually serve this with a side of grilled veggies.
Recipes I've Rated:
MADI-EMMA currently has no rated recipes.


Recipe Collections I've Shared: