More About WILLOWWHISPERS
Visit My SparkPage
Send Me SparkMail
Recipes I've Shared:
Marinated Cornish Hens with Mixed Veggies
This is a recipe my husband came up with and it's low fat and very tasty. He cooked it on the grill, but you can cook it in the oven. He was a Chef, so he knows his stuff!! :)
WW Chicken Pot Pie
A really great low fat Weight Watchers chicken pot pie recipe that will leave you filled to the rim :)
Ground Turkey Garden Veggies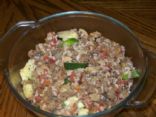 A simple, easy and low fat concoction to make using only ground turkey, rice and some garden veggies.
Recipes I've Rated: