More About MMINITEACH
Visit My SparkPage
Send Me SparkMail
Recipes I've Shared:
Egg Drop Chicken Soup

Such a yummy and easy soup! My husband loves this one.
Gnocchi with Zucchini Ribbons and Parsley Brown Butter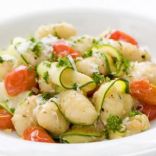 For this recipe, convenient store-bought potato gnocchi are tossed with delicate ribbons of zucchini, shallots and cherry tomatoes that have all been sautéed in nutty browned butter.
Recipe Collections I've Shared: