More About SCARLETT82
Visit My SparkPage
Send Me SparkMail
Recipes I've Shared:
Burgundy Angel Chicken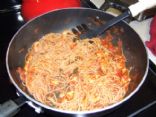 A pasta dish made with chicken that kids and adults love. Plain and simple!
Recipes I've Rated:
Recipe Collections I've Shared:
Scarlett's Creative Solutions
My husband is a very picky eater who could be considered a "meatatarian." My daughter is very young, and needs her balanced diet. As a result I have to be creative in the kitchen. This is a collection of recipes that work for our family.