More About CHICKMORE
Visit My SparkPage
Send Me SparkMail
Recipes I've Shared:
Refreshing Mango Salsa
A wonderful mango salsa that has been wow-ing my family for years. I actually created this when i was about 9 yrs old. This goes perfect with a firm fleshed white fish, chicken, and turkey burgers. It is also good all by itself or with chips.
Seared Ahi Tuna with teriyaki soy glaze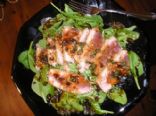 Seasame crusted seared Ahi tuna over a bed of spinach with a teriyaki soy glaze. I suggest using low sodium teriyaki and soy sauce.
Recipes I've Rated:
CHICKMORE currently has no rated recipes.


Recipe Collections I've Shared:
I love easy gourmet type food
I love cooking! I like gourmet food and i think im a pretty good cook. I have created some healthy gourmet options that are easy to do.