More About SERAPHSRAGE
Visit My SparkPage
Send Me SparkMail
Recipes I've Shared:
Chicken & Rice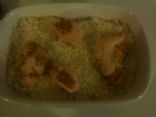 I came up with this recipe when the little ones where sitll little and ready to eat "grown up" food.
Recipes I've Rated:
SERAPHSRAGE currently has no rated recipes.


Recipe Collections I've Shared:
My recipe collection
A small recipie collection consisting of chicken, fish and vegitarian varities. I am just begining my collection, so it will take time as I do some experimenting. So have some patiance and enjoy the ride...