More About JOSWALD12
Recipes I've Shared:
Peanut Butter & Nutella Brownies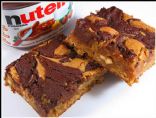 The base is a peanut butter brownie and the swirl is made from dark chocolate, Nutella and butter. For a richer hazelnut flavor, use a
hazelnut flavored dark chocolate bar. Green & Black's dark chocolate with hazelnuts & currants would work (if you don't mind a few
currants) or you could use a dark chocolate hazelnut flavored Ritter Sports Square. They have a pretty intense hazelnut flavor.

P.S. Don't forget to let them cool completely. Chilling gives them a better texture, but you can serve them at room temperature (or cold,
if you like cold brownies).
Recipes I've Rated:
JOSWALD12 currently has no rated recipes.