More About PONGKEY
Visit My SparkPage
Send Me SparkMail
Recipes I've Shared:
Kabsah or Saudi Arabian Meat and Rice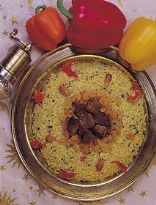 Taken from: http://arabicfood.blogspot.com/2006/10/kab
sah-or-saudi-arabian-rice-and-meat.html
Malaysian-style Chicken Rice
A complete meal with a clear soup, chicken, salad and chili salsa. It may look a bit long-winded but it is really easy to prepare! My favourite fail-safe recipe when unexpected guests turn up.
Recipes I've Rated:
Recipe Collections I've Shared:
Pongkey's Clean Makan Cookbook
I want to eat healthy, yet my hubby says eating healthy should taste good, otherwise it is not healthy. I recently found a book called 'The Flavor Point' which emphasises the idea of training your palate to eat clean, healthy foods which will satisfy you a lot sooner, so you eat less. :-)