More About JIGGLEBEGONE09
Visit My SparkPage
Send Me SparkMail
Recipes I've Shared:
Morgan's Four-Cheese Stuffed Mushrooms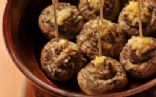 Great healthy appetizer - found on mylifetime.com from the DietTribe show.
Recipes I've Rated:
JIGGLEBEGONE09 currently has no rated recipes.


Recipe Collections I've Shared:
Found Goodies!
Hello! I just wanted to share some great recipes that I have come across over the years either from the internet or books. Enjoy!