More About MAKE*YOURSELF
Visit My SparkPage
Send Me SparkMail
Recipes I've Shared:
Spicy Habanero Tuna Sandwich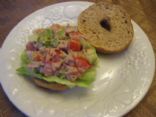 One of my favorite lunches: Low in fat, high in protein & fiber.
Savory Veggie Side Dish
I made a practically fat free version of my co-worker's recipe (she uses ALOT of butter). I like garlic but feel free to reduce the amount :)
Recipes I've Rated:
Recipe Collections I've Shared:
Learning to Cook :)
I'm gathering a few of my mom's and friend's recipes in an attempt to learn how to cook. Their dishes are usually fatty (as are alot of latin dishes) so I'm altering them to make them low fat & still delicious!