More About SVMIKEYB
Visit My SparkPage
Send Me SparkMail
Recipes I've Shared:
Stuffed Green Peppers with Ground Turkey & Mushrooms
Very flavorful recipe that uses finely diced mushrooms as filler. Be careful of the amount of Italian seasoning that you use as it can overpower the dish. Also, the mushrooms don't overtake the flavor of the stuffing. They really add bulk and allow an extra serving or two which keeps the total calorie count low.
Asian Chicken & Vegetable Soup with Noodles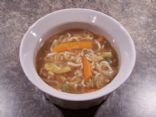 This is a quick recipe to make a low calorie batch of soup to snack on throughout the week.

Recipes I've Rated:
SVMIKEYB currently has no rated recipes.


Recipe Collections I've Shared: