More About BON-BON22
Visit My SparkPage
Send Me SparkMail
Recipes I've Shared:
Tabouli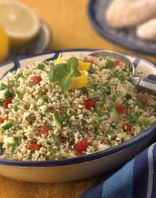 A cracked wheat salad which can be a vegetarian meal or a side dish.
Hummus--Greek
My Greek friend gave me this and I love it. It's great with pita or veggies.
Recipes I've Rated:
BON-BON22 currently has no rated recipes.


Recipe Collections I've Shared:
NEW IDEAS
These sound healthy and easy to make.