More About 2HEALING
Visit My SparkPage
Send Me SparkMail
Recipes I've Shared:
Peach Ginger Scones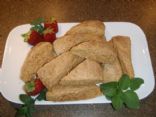 These scones are fantastic for Sunday Brunch with some fruit on the side.
Recipes I've Rated:
Recipe Collections I've Shared:
Wendy's Inspiration of Wonderful Food
This cookbook is a home for all my favorite recipes that will feed my body and nourish not only my hunger but inspire me to keep on living a healthy life. This I do for myself first, and my family.