More About HEYNOWBNICE
Visit My SparkPage
Send Me SparkMail
Recipes I've Shared:
Potato and egg hash
Something I made up trying to figure out what to feed my 2 year old for breakfast.
Chicken Tetrazzini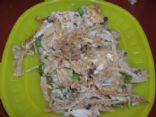 This is my modified / healthier version of Giada De Laurentiis' chicken tetrazzini (from the food network)
Garlic Hummus (20 kcal/2TB)
A recipe that I created using what I learned from reading the hummus recipe created here on sparkpeople by JULZ654. Thank you JULZ654!