More About KAYBABE71
Visit My SparkPage
Send Me SparkMail
Recipes I've Shared:
Strawberry Lemon Muffins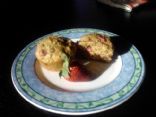 1/2 cup of yellow squash puree and a scoop of high-quality whey protein powder give these muffins a nutritional kick for just 110 calories each.
Super Simple Strata
Turkey sausage, egg beaters, one broccoli crown, and shredded cheese for an easy breakfast!
Recipes I've Rated:
KAYBABE71 currently has no rated recipes.


Recipe Collections I've Shared: