More About JODANGEROUSLY
Visit My SparkPage
Send Me SparkMail
Recipes I've Shared:
Jo's Dangerously Delicious Turkey Chili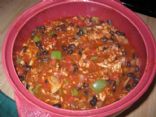 This is a great dish for cold days - just prepare the items and let simmer in a crock pot or bake in a covered casserole until ready to serve.

Instructions for oven baking are listed below.
Jo's Dangerously Delicious Black Beans & Rice
This is one of my staple dishes when home alone or when I'm in need of a simple, but filling dish. The level of "heat" depends on the type of salsa you use.

This is also an excellent side dish for a citrus-y chicken.
Recipes I've Rated:
Recipe Collections I've Shared:
JoDangerously's "Go To" meals
Here are a few recipes that are "go to" meals for my husband & I. They're quick & delicious, which is what we aim for.