More About LITTLESHORTLEGS
Visit My SparkPage
Send Me SparkMail
Recipes I've Shared:
Good Morning Tangy Fruit Smoothies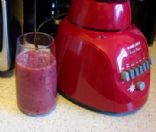 I'm not a coffee drinker so I look for other morning drinks that wake up my mouth and my mind. This tangy treat does the trick for me.
Heart Healthy Black Bean Chili
I'm not a vegetarian, but I have been looking for ways to increase my carbs and protein without increasing my fat intake. I heard somebody mention something recently about "bean chili." I don't know if this is what they meant, but this is what I put together based on my (very popular among my friends and family) chili recipe.