More About EULALIE2286
Visit My SparkPage
Send Me SparkMail
Recipes I've Shared:
Jamaican Jerk Sweet Pepper Sauce
This is an delicious sweet pepper sauce based on the sauce the California Pizza Kitchen uses on their Jamaican Jerk Pizza. I use it on my Jamaican Jerk Black Bean Burgers (also on SparkRecipes).
Jamaican Jerk Black Bean Burgers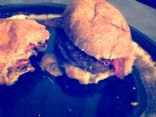 These burgers are vegetarian, low-fat, low sodium, and low carb. They are just slightly spiced with Jamaican Jerk Seasonings.
Gyro Flatbread w/ Homemade Tzatziki Sauce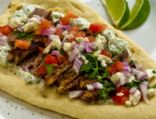 This is my adaptation to the Gyro. This meal is a godsend for me when I'm craving restaurant food. Not only is it filling, it tastes like you're cheating.
Recipes I've Rated:
EULALIE2286 currently has no rated recipes.


Recipe Collections I've Shared: