More About THEGETNSHAPEGRL
Visit My SparkPage
Send Me SparkMail
Recipes I've Shared:
Coconut and Almond Flour Breaded Chicken
A great twist on breaded chicken
Get In Shape Girl Egg Fried Rice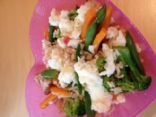 Use oriental stir fry mixed veggies to make this super quick cleaned up version of egg fried rice!
Carrot quinoa & edamame
I had some quinoa in the house from a while back. I tried it & didnít like it, as I donít care for the taste of dirt or the smell of a vitamin. So I decided I needed to use it and since I was out of brown rice, this seemed like a great opportunity. This is what I did and it came out pretty good.
Recipes I've Rated: