More About ADDABOY
Visit My SparkPage
Send Me SparkMail
Recipes I've Shared:
The All American Hot Dog
This is a family recipe that has & will be passed on & on! Turn your boring hot dogs into a meal that everyone will remember!
Pork Chops with Apples & Stuffing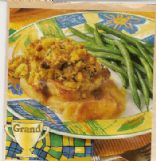 Quick & easy plus it's sweet so no need for dessert afterwards. My family loves this recipe- it was added to the family cookbook
Recipes I've Rated:
ADDABOY currently has no rated recipes.