More About READY2BFIT2009
Visit My SparkPage
Send Me SparkMail
Recipes I've Shared:
Tex-Mex Meatball Pie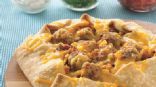 This is very easy to make and my daughter helped put this together.
Basic Strawberry Banana Smoothie
I found several smoothie recipes on here, but I just wanted a basic one, so I made it myself. For anyone wanting a basic, naturally sweet smoothie, try this!
Recipes I've Rated:
READY2BFIT2009 currently has no rated recipes.