More About KRENESOTO
Visit My SparkPage
Send Me SparkMail
Recipes I've Shared:
Meatloaf, the family recipe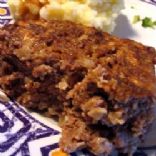 Not the typical meatloaf! People that normally do NOT like meatloaf, LOVE this recipe! You must try it! :)
Soft, Chewy, Cinnamon Oatmeal Cookies

These cookies are ridiculously tasty. Once you bake them, you will never go back to ordinary cookies AGAIN! You MUST try them!! These oatmeal cookies are very moist with good flavor. Add a cup of raisins or nuts if you desire! Have fun!
Recipes I've Rated: