More About JONESEYJR55
Visit My SparkPage
Send Me SparkMail
Recipes I've Shared:
Quick Rice Cooker Cheesy Brown Rice and Vegetables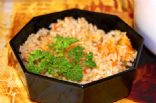 A Great Big Thanks to my nephew John and his wife Carley for this wonderful idea to make complete meals in a rice cooker. This especially helps on days when my chronic fatigue is kicking in.
Mini Pumpkin Almond Craisin Coconut Oatmeal Cookies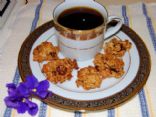 at approx. 50 calories each, these are a mini sweet way to get you daily fiber. You can substitute non-sweetened applesauce for the pumpkin. I use pumpkin that I cook, puree and freeze from Halloween.
Noni's Italian Stuffed Artichokes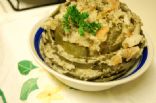 We used to love the spring when the artichokes came in. This is a whole meal in itself. The kids used to fight over the 'heart'. Even the stem is tasty!
Recipes I've Rated:
Recipe Collections I've Shared: