More About ENCHANTEDALANA
Visit My SparkPage
Send Me SparkMail
Recipes I've Shared:
Alana's Pho
A nice chicken soup with an Asian twist. For more authenticity, add a couple of tablespoons of Pho Paste...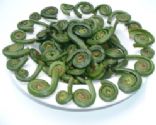 Steamed Fiddleheads
Instead of passing-by these baby ferns in the grocery store, try this as an alternative to asparagus, green beans or artichoke!
Recipes I've Rated:
Recipe Collections I've Shared:
Desserts
Cakes, cookies, brownies, everything to blow your calorie count. Don't say I didn't warn ya!