More About RAINYMILLER1
Visit My SparkPage
Send Me SparkMail
Recipes I've Shared:
Rainy's 6-Ingredient Shrimpea Salad

Super easy and even more delicious!
Buffalo Turkey Burgers & Feta or Blue Cheese Gravy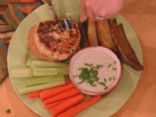 This is my twist on Rachael Ray's Turkey burger. This is a much lower calorie version that my family actually likes much better! It is very quick and easy to make! Enjoy!
Recipes I've Rated:
Recipe Collections I've Shared:
Rainy's Delicious DINNERS
I have 5 children ranging from 1 to 12 and a textbook "meat & potato" husband, so I have to be very creative about what I cook if I want anything besides fried chicken and mashed potatoes seven day a week! Here are some recipes that my family loves... I hope you enjoy them just as much!