More About LOTUSBLOSSOM126
Visit My SparkPage
Send Me SparkMail
Recipes I've Shared:
Curried Potatoes and Chickpeas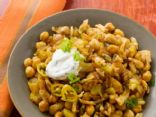 From Foodnetwork.com
Terra's 'secret ingredient' Chili
Most people think I'm crazy when I tell them I put chocolate in my chili! People in mexico have been using chocolate for savory cooking for centuries. It does not add sweetness to the chili, but it does add a nice earthy tone to it as well as a slight rich texture.

VARIATION: for a vegetarian version, you can replace the meat with black beans.
Recipes I've Rated:
Recipe Collections I've Shared:
Lunches: TO GO.
Recipies that are great for cooking bulk. At one point I have made each one of these and stored it in my freezer to take for lunch the next week. Many of them are very easy.

bridal shower
Collection of potential recipes for my "madhatter" bridal shower. We were all inspired by the hats of the royal wedding. lol