More About NOELLE601
Recipes I've Shared:
Spaghetti Squash with Avocado Pesto-from The Biggest Loser Simple Swaps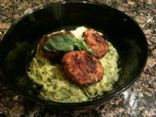 This flavorful squash can always be found in the kitchen at the ranch as a creative replacement for white pasta. Add grilled chicken and a tomato salas and you have a meal. The avocado pesto is also delicious as a sandwich condiment or drizzled over sliced tomatoes.
Easy oil and vinegar salad
A very yummy salad that's easy to make and has GOOD fat in it! It's usually enough to fill me up so often i make it the main course of my lunch.
Recipes I've Rated: