More About ROOBYBEGONIA
Visit My SparkPage
Send Me SparkMail
Recipes I've Shared:
Quinoa Taco Salad
Katie Goodman, www.goodlifeeats.com, featured in April 2010 issue of The Costco Connection
Quinoa with Vegetables and Nuts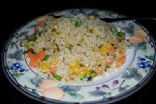 Based on recipe of same title on Food Network site, c.1996, M.S. Milliken & S. Feniger, all rights reserved.
Recipes I've Rated:
Recipe Collections I've Shared:
RoobyBegonia
I love to cook and eat, and I refuse to eat rabbit food the rest of my life! I enjoy ethnic cooking (anything spicy!), and my husband and I are omnivores.