More About LOVLY2008
Recipes I've Shared:
Cheezy Squash Skillet Caserole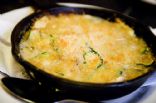 Quick squash dish for 4, that can be cooked in a skillet or oven if you so desire. Portions are rather large and very few calories. Great side dish!
Recipes I've Rated:
Recipe Collections I've Shared:
My Favorite Recipes
All recipes from the Spark People website. Ingredients have been calculated for calorie content.