More About TRIVA8000
Visit My SparkPage
Send Me SparkMail
Recipes I've Shared:
Sweet Italian Sausage & Ground Turkey Spaghetti Sauce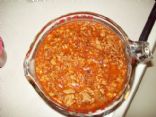 A really quick & simple, but very delicious sauce that can be served over whole-wheat spaghetti or used to make a delicious lasagna.
Hannaford's Berry Medley Simple Smoothie
I was looking for something cool and refreshing that didn't resemble chocolate, ice cream or candy. I used the frozen berries and orange juice to create a smoothie I could eat with a spoon. I loved it and hope you will too!
Recipes I've Rated:
Recipe Collections I've Shared: