More About LIZART
Visit My SparkPage
Send Me SparkMail
Recipes I've Shared:
Pumpkin Chocolate Chip Muffins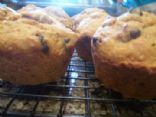 The taste of Autumn. Make a double batch because these won't last!
Recipes I've Rated:
Recipe Collections I've Shared:
LIZART's Delectable Dishes
A collection of recipes I've tried or want to try soon. I'm always on a mission to find family friendly recipes that the whole gang will eat. Healthy is great, but if it doesn't taste good... why bother? I want the best of both worlds because I LOVE food!